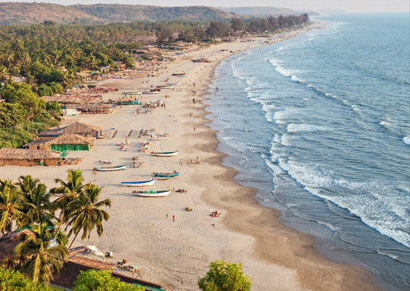 Stress, in everyday terms, is a feeling that people have when they are overloaded and struggling to cope up with demands.
These demands can be related to finance, work, relationships and other critical situations, but anything that poses a real or perceived challenge or threat to a person's well-being can cause stress.
Stress can be a motivator sometimes. Yes! A motivator for you to get rid of it; if not rid, at least keep it away for awhile. All human behavior, at its root, is driven by the need to avoid pain and the desire to gain pleasure. Take a break, create your own rehabilitation, COME TO GOA!!!
There are so many reasons why you should visit Goa.
THE BEACHES:
As Goa is a state in western India with coastlines stretching along the Arabian Sea, there are beaches in abundance. So wherever you go, you'll surely find one. Hit the beach, skitter in the lagoons, sink in the sand, put on your sunglasses and dance to the beat of the music at the beach party. This is the best way to let yourself loose. Beaches like Mandrem, Calangute, Sinquerim, Anjuna, etc. are must visit spots. Sit to watch the beautiful sun setting at your leisure. Avail your time, right from merry mornings to nocturnal nights, all in Goa. Let the adrenaline rush up as you shout out loud...
Read more