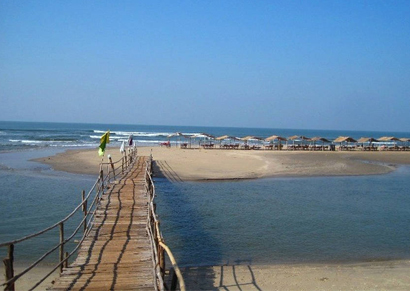 When you are on, for a Goa trip, it becomes difficult to choose which beach location to choose for accommodation because each beach is beautiful and has its own specialties. One of the finest and popular beach is Mandrem beach which is a favourite holiday spot for the visitors coming in. Let's explore how and why.
A quiet, away-from-it-all area, Mandrem Beach offers a taste of how North Goa would have appeared prior to tourist development. It's one of the few places in the region where crabs, kingfishers and fish eagles still outnumber sunbathers. Go wildlife spotting, practice yoga on the soft sands or lie out and daydream on the blissful shores.
The quiet and peaceful silver beach of Mandrem lies between the twin beaches of Ashvem and Arambol. The beauty of Mandrem beach is worth watching during high tide when the sea water rushes into Mandrem creek. The Mandrem creek moves parallel to the waterline. The water is clear and a rocky cliff out into the sea separates it from Arambol beach. Mandrem has a small fishing community and one might see local fishermen shipping their catch from the sea.In contrast to the hectic party scenes of the beaches further south, this tranquil beach is perfect for visitors seeking respite from the stresses of their daily life. Get your day off to a rejuvenating start with an early-morning yoga session or with a run on the beach. Look for fellow beachgoers engaging in other activities, such as meditation, reiki or tai chi.
As the day wears on, there are plenty of other ways to pass the time. Kick off your shoes and walk barefoot along the shore break, dipping your toes into the shallows. Explore the beach's fringes to see if you can spot wildlife. The beach is home to many animals including marine turtles, bright kingfishers and stately herons. You can also arrange to have an ayurvedic massage.
Mandrem is blessed with many natural gifts so ensure that you don't miss the nearby greenery. If you are up for a walk, head to a beach, such as Terekol beach, Vagator beach or Ozran beach. To get a feel of the area visit the Chapora Fortress in Vagator. Relive Goa's colorful past at Terekol Fort in Terekol.
Whether you are a single or couple, if you are there for a day or week, Mandrem has something for everyone. You can go wind-surfing, water skiing, parasailing, Jet Ski or speedboat riding, motorbiking and so on. You can also engage in exciting and fun group activities such as the banana ride and bumper ride.
After a full day here, you'll be relaxed and ready to further unwind. Pick up a beer, cocktail or fruit juice and watch as the sky turns crimson and the glowing sun sinks into the glittering water. The nearby beach shacks occasionally host live music, so check to see if there are any performances taking place during your visit.
Escape to this magical stretch of palm-fringed paradise, where nature reigns supreme and a slow pace of life endures.
Back