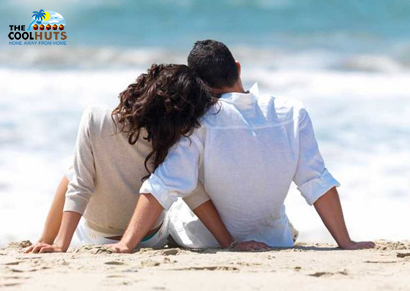 The happiest moment of one's life after the wedding is the 'happy honeymoon', right? Well, I think yes, before listening to the name of the honeymoon, people start dreaming before marriage. After marriage, there is a honeymoon that makes you aware of your life partner well, pleases you with no choice. Increases your love, as well as give a new dimension to your relationship. A moment of honeymoon fills your life with romance and happiness. So it is very important to choose a perfect destination for a special honeymoon. Romantic beaches, sunsets, white sand, candle light dinners, all this can make your honeymoon indeed memorable.
Mandrem beach:
Mandrem is a beautiful coastal town located north of Ashvem and south of Arambol, 21 km (13 miles) away from the capital Panaji in north Goa. The sparkling water and the isolated beach offers ample opportunities to enjoy this calm and soothing locality in peace. Mandrem, Ashvem and Morjim beaches are the attractions that should top the list of every visitor's itinerary.
Mandrem is blessed with many natural gifts so ensure that you don't miss the nearby greenery. If you are up for a walk, head to a beach, such as Terekol beach, Vagator beach or Ozran beach. To get a feel of the area visit the Chapora Fortress in Vagator. Relive Goa's colorful past at Terekol Fort in Terekol.Over the years, Mandrem beach have been a hot choice for the newly weds and been visited by couples long after their marriages too.
Goa offers plenty of activities for the average traveller – however, one's honeymoon isn't an average vacation. Goa has plenty of activities that range from peaceful relaxing at the beach to dancing the night away at the closest watering hole. All these various activities allow couples to get to know each other more and get even closer than before – a perfect way to start off an eventful life together.
It is a white sand beach, very beautiful, less crowded, lovely ambiance, clean and the water is crystal clear. This is one of the best beaches in Goa. It is off the beaten path, but that's what makes it even more special. The water is super clean .As the gradient is very gradual, the tides are just perfect sized.
Coolhuts
Coolhuts offers you lovely, beautiful huts along the beaches of Mandrem where you can enjoy serenity and peace each moment. These huts are fully equipped and provides all amenities, so you can never miss a single moment of comfort and relaxation. Beautiful evenings along the seaside, romantic walks with your partner over the white sand, mouthwatering food is all what one expects for a memorable holiday. Coolhuts promises you the most romantic and special holiday one can dream off.
Back